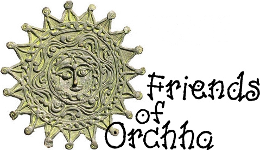 About us
Friends of Orchha is a registered non-profit organisation working in Madhya Pradesh, India on creating livelihoods linked to tourism, preserving the environment of heritage sites like Orchha and promoting cultural exchange between visitors and locals. Interaction with a group of women from a poor neighbourhood of Orchha was the spark that led to the creation of Orchha Home-stay, a social enterprise that creates incomes and assets for families below poverty line while providing a rich cultural experience for both visitors and hosts.
The activities of the organisation are financed by individuals and by a few other development aid agencies. Friends of Orchha, registered as Orchha Mitra Vikas Samiti is guided by a Managing Committee of seven persons from Orchha, Jhansi, Bhopal and Delhi. If you share the aims of our organisation and wish to join us, please send us an e-mail. We will be happy to welcome you and have you participate in the Annual General Meeting held in Orchha.
The organisation was founded by Asha D'Souza and Louk Vreeswijk, an Indo/Swiss - Dutch couple, who moved from Geneva to Orchha in 2006. Asha, was born in Madhya Pradesh. She is a sociologist with several years of international experience in the management of development projects. Louk is an anthropologist and documentary film-maker with a keen interest in Indian arts, crafts and culture. They now live in Almora but continue to look after the home-stay and are in daily contact with the staff in Orchha - Romi Samele who manages the home-stay and the youth centre and Ramsevak Valmiki and Jumna Prajapati who do the house-keeping of the home-stay.
Links