What's new ?
Partnership
We're still looking for partnership with an institution or NGO in or near Orchha to help manage the home-stay. Louk and Asha now live in Almora. Managing it at a distance is not easy. Our arrangement with the School of Tourism and Hotel Management of Bundelkhand University started well but did not prove sustainable. If you're interested in promoting responsible tourism by managing a social enterprise that is already almost self-sufficient, send us an e-mail.
Towards self-sufficiency
The excellent reviews we have received from our guests on Trip Advisor and the publicity we receive through guides like the Lonely Planet have increased the occupancy rate of the six rooms we now have in five homes. The first three host families will have reimbursed what we invested in their homes by March 2013 and the two others will require another year or two to repay their loan completely. At present, 60% of what guests pay for the room goes towards this reimbursement. The host families receive the entire amount paid by guests for meals and about 20% in cash from the room rent. The 20% retained by Friends of Orchha covers almost all the expenses incurred in maintaining the home-stay.
Trouble makers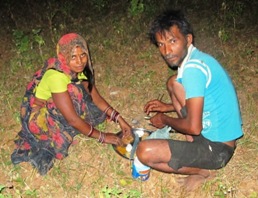 We had to close the home-stay belonging to Raghubir and Malti Kushwaha in November 2011 because they refused to work with us and tried to incite other home-stay families to join them. We were able to recover some of the furniture from their room but have had to write off half of what we invested in their home. We request guests to avoid all contact with this family.
Good news for motorbike lovers
Thanks to Carrie, Pete and family who visited the home-stay, we have inherited a Royal Enfield motorbike and can rent it out to guests for INR 200 per day + petrol. So day trips to Chanderi and Deogarh or to Datia are possible for those who have a motorbike driving licence. The others can pedal along on one of our four bicycles!
Sanitation in Ganj
Twenty toilets and bathrooms like these have been constructed for families in Ganj thanks to the 1% for Development Fund in Geneva... a step towards making the Ganj neighbourhood "Open defecation free".