Getting there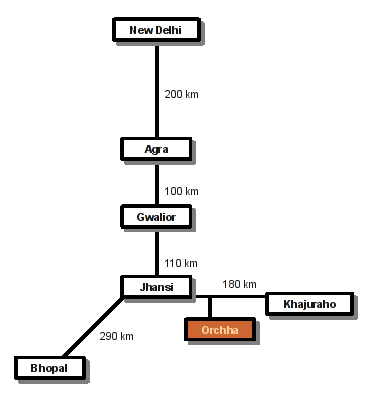 Orchha is within easy reach from Delhi. Visitors often combine it with a visit to the Taj Mahal in Agra and the erotic temples of Khajuraho. Jhansi is the nearest railway station and Gwalior the nearest airport.
The distance between Jhansi and Orchha is 18 kilometres. An autorickshaw from Jhansi railway station to Orchha will cost Rs. 300 and will take about 45 minutes. A taxi will cost Rs.600 and will take 30 minutes. If you wish us to arrange for you to be picked up at the station, let us know by which train you are arriving. The driver will receive you just outside the main exit from Platform 1 situated near the South side bridge and the Madhya Pradesh Tourism counter.
There are several trains running daily from New Delhi to Jhansi (via Agra and Gwalior). They depart either from New Delhi station or Hazrat Nizamuddin station. The Shatabdi is the fastest train: it leaves New Delhi station at 6 a.m. and reaches Jhansi at 10:45 a.m. Other trains take about 6.5 hours from Delhi to Jhansi.
The fastest train from Bhopal to Jhansi is the Shatabdi. It leaves Bhopal at 15:12 and reaches Jhansi at 18:32.
The trip from Khajuraho to Orchha can be done by train to Jhansi, or by bus to Orchha tigela or Jhansi bus station and then by autorickshaw to Orchha or else the luxury way by taxi. There are two trains from Khajuraho to Jhansi - the Khajuraho - Udaipur Exp that leaves at 9.10 and arrives at 13.45 or the Khajuraho - Nizamuddin Exp that leaves at 18.20 and arrives at 23.10. There is also a slow train that leaves Khajuraho at 12:30 and reaches Orchha station at 18:30. One cannot reserve seats on this train.