What's new ?
Awards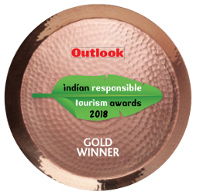 On February 10, 2018, the Outlook Indian Responsible Tourism Awards were declared at a ceremony in New Delhi. We were thrilled when the Orchha home-stay received the Gold award for the Best Community-run homestay. Wonderful recognition of the hard work of our team and host families.
Thanks to the excellent reviews posted by our guests on Trip Advisor, we have received the Certificate of Excellence for 2017 and continue to be ranked the best B&B in Orchha. Of the 178 guest reviews, we are rated as Excellent in 94 and very good in 18. See Trip Advisor Reviews
Change in management
There comes a time when a programme must be run by local people - this is an indicator of its success. From April 1, 2018, Asha D'Souza is withdrawing from the day-to-day operations of the homestay. Romi Samele, who has been assisting her since August 2016 has taken over. At the last meeting of the Managing Committee on April 3, 2018, most of the former members who have been serving since 2010 resigned and were replaced by interested persons living in or near Orchha. The home-stay will continue as a social enterprise with the aim of bringing the economic and cultural benefits of tourism to the local community and offering visitors an authentic family experience. The aims of the organisation are broad and will allow for a variety of development initiatives. The first task however is to increase the occupancy rate by attracting more guests for longer stays. Romi will continue to work with Jumna and Ramsevak to maintain high standards of cleanliness at the home-stay.
Lower room rates
A first step towards increasing demand has been lowering the room rate to INR 950 per night for a double room and INR 750 for a single room. We no longer distinguish between rooms with Western or Indian toilets. The rate for breakfast has been slightly increased while that for meals remains unchanged.
Quality Education
The biggest asset that our host families can acquire is quality education for their children. Friends of Orchha pays the school fees of ten children in private schools. We are very grateful to our guests who have sponsored some of them and to the volunteers who have tutored them. Visitors greatly appreciate the progress that children have made in English, making communication with the host family much easier.